Frequently Asked Questions (FAQ)
What do you produce?
We produce custom vinyl cut lettering and graphics decals.
Is your vinyl lettering suitable for outdoor applications?
Yes, vinyl we use has excellent colour and dimensional stability, it is water resistant and UV resistant.
Does your vinyl lettering have a background?
No, vinyl letters & numbers are individually cut (not printed) and have no background. Letters and numbers are pre-spaced and held in position thanks to transfer tape and backing paper. Letters can be applied all at once. Once the installation is complete only vinyl letters remain as transfer tape and backing paper are both removed during the installation process.
What is the difference between vinyl cut decals and vinyl printed decals?
Vinyl cut decals are cut out of vinyl material. Vinyl printed decals are printed on vinyl. Vinyl cut decals are much more durable and are rated for up to 10 years of outdoor use, while printed decals can last for only a couple of years. We produce vinyl cut decals.
Can you make colour gradient?
Vinyl cut decals cannot have colour gradient.
What is the minimum font size you can make?
Our online vinyl lettering design tool allows minimum font size 15mm. Although we can make it smaller on request depending on the font.
What surface can your vinyl decals be applied to?
Vinyl lettering decals can be applied to any kind of smooth and clean surface such as glass, plastic, metal, painted wood and similar.
Will vinyl lettering decals adhere to canvas?
Generally it is not recommended for using on canvas. It will stick to canvas but we cannot guarantee it will hold as strong as on recommended types of surface such as glass, metal, plastic, painted wood and similar.
Is your vinyl lettering suitable for sea boat names and registration numbers?
Yes, one of the vinyl types we have on stock (marine vinyl) is seawater-resistant and can be used for boat lettering and graphics.
Please note, we wouldn't recommend you to apply vinyl lettering on inflatable boats. It won't last long. For inflatable boats we can offer you stencils made from your design so you would be able paint over them.
Can you make custom vinyl cut decals from my graphics?
Yes, we can make custom vinyl graphics. You can get a free approximate instant quote for a custom graphics decal using our online vinyl graphics estimator. The final price will depend on graphics complexity and the number of colours.
Can you make multicolour decals?
Yes, we can make multicolour vinyl decals. Each colour is cut as a separate layer and the layers are merged.
How to install vinyl lettering decals?
Please see vinyl decal installation guide.
How to remove vinyl lettering decals?
To remove vinyl lettering apply heat with a hair dryer or heat gun, then slowly and carefully peel the lettering off the surface.
Can I pay for my order with a credit card?
Yes, PayPal provides an option to pay with a card if you don't have a PayPal account or just prefer to pay with a card.
Once you have been redirected to PayPal payment page choose "Pay with a Card" option. Please see image below.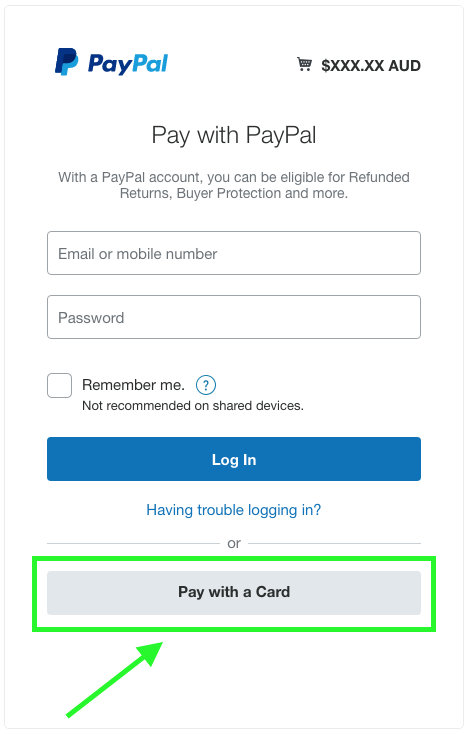 Can I get a discount?
We offer flexible pricing. You can get the following discounts:
- 5% off orders over $100
- 10% off orders over $200
- 15% off orders over $300
- 20% off orders over $500
- 25% off orders over $900
How long will it take to produce my order?
Orders are normally produced and posted within 2-3 business days.
When will I receive my order?
Orders are normally produced and posted within 2-3 business days.
The actual delivery time varies and depends on Australia Post
- Within Australia: 3-12 business days (or 1-3 business days if sent via Express Post within Express Delivery guaranteed network)*
* Delivery to remote locations may take longer. Delivery during Christmas Season may take longer.
- NZ: 12-25 business days
- US / CA destinations: 20-35 business days
Can you produce and post my order urgently?
Yes, we can produce and post orders urgently. Please get in touch with us and we will let you know if your order can be processed within the given time frame.
I have already placed my order. Can I change it?
Vinyl lettering you order is custom made to your specifications, so we cannot resell it to other customers. If you notice anything that needs to be changed in an order you have just placed please let us know ASAP so we are aware of it before we start processing your order.
Can I get a refund or exchange?
If you are not happy with the product due to any errors on our part please let us know and we will correct them for free or issue a refund (full or partial depending on the case). Please check the spelling and the specifications (font, font size, colour, vinyl type and cut style) as you place your order as we are not responsible for any inaccuracy or errors on your part.
What countries of the World do you ship to?
During the checkout you can select one of the following countries: Australia, New Zealand, United States, Canada.